An exceptional friendship between Germany and Denmark
The two patrons of the German-Danish Cultural Year of Friendship met at Villa Borsig in Berlin on July 1st.
July 03rd, 2019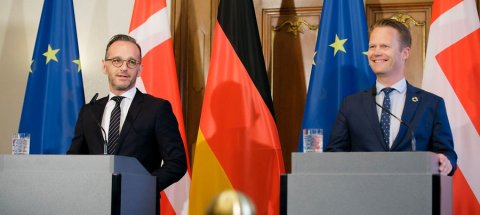 On his first official visit abroad, the newly appointed Danish Minister for Foreign Affairs, Jeppe Kofod, came to Berlin to meet with the German Foreign Minister Heiko Maas.
Heiko Maas welcomed his new colleague declaring that the visit is a sign of the exceptionally good relations between Germany and Denmark. In 2020, the countries will celebrate 100 years of good relationships since the referendums on the border between Denmark and Germany back in 1920. The year  2020 has been appointed as the German-Danish Cultural Year of Friendship and the two Foreign Ministers are its patrons.
According to Foreign Minister Maas, « It is good to pay tribute to this in a special way and to commemorate the past. In a series of events and projects, our aim will be to look to the future and to seek opportunities to underline what we have in common. »
The year of cultural friendship has a broader international purpose of cultural exchange and is the culmination on the three-year of Danish cultural endeavors 2018-2020 in Germany.
During their meeting, the two ministers discussed solutions on fostering effective EU foreign policy, better climate protection and stronger rule of law in order to maintain a sovereign and social Europe.
Foreign Minister Heiko Maas believes that Europe can be strong only if its countries join their forces together and it would be great to put some of Denmark's ideas into practice as the Danish Law of Jante states that no one should threaten a community's success by being selfish.
References:
News from Berlin