News from Berlin
Alive in Berlin: A Global Gathering to Connect, Inspire and Transform Young People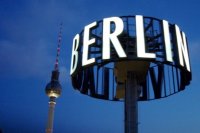 News from Berlin – On May 30th to May 31st, the event 'Alive in Berlin' will take place in Germany's capital. 'Alive in Berlin' is a global gathering devoted to personal transformation. The event will bring together world-class experts, visionaries and game changers from a variety of communities and disciplines. The main goal is to connect people and make them feel more "alive".
This is to be achieved by exploring the common threads that connect people nowadays. 'Alive in Berlin' may be a great opportunity to surround yourself with extraordinary people who are committed to changing themselves and the world around them for the better. Moreover, the aim of the event is to strengthen the bonds between our communities in Europe, the US and the rest of the world by focusing on what is common for all young people around the world: passion, rebelliousness, a powerful curiosity and a hunger for change.
The mission of the organizers is to nurture the dreams and ambitions young people and enable them to walk away with the mindset, practical tools and confidence to step up their game and create a lasting change in their own community and the world at large. They believe that young people can be a powerful catalyst for wider change. 'Alive in Berlin' will be great opportunity to meet new people and to gather inspiration, a must-have for all open-minded people.
News from Berlin - Berlin Global