A Tale of Three Countries
"My Enemy, My Brother": is an Oscar-shortlisted and Emmy-nominated Canadian film presented by the Embassy of Canada
November 30th, 2017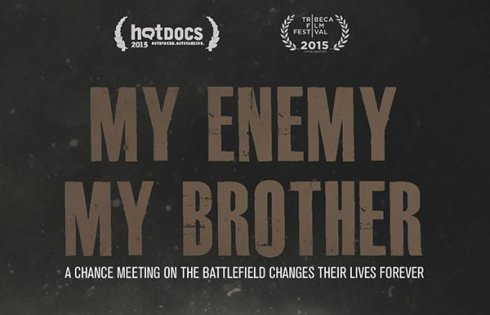 "My Enemy, My Brother" by Canadian director Ann Shin, tells the story of enemies in the Iran-Iraq conflict who become blood brothers after crossing paths 20 years later.
Among the many events promoted by the Embassy of Canada in Berlin, on December 5, 2017, the Embassy will present one of its most captivating and dynamic to date.  The Marshall McLuhan Salon will screen Canadian filmmaker, author, director and producer Ann Shin's Oscar-shortlisted and Emmy-nominated "My Enemy, My Brother".  This unbelievable documentary tells the story of two soldiers from opposite ends of the Iran-Iraq conflict who meet by chance 20 years later in Canada. As war refugees, they have to travel back to their homelands together.  The screening and subsequent discussion will be attended by none other than Ann Shin herself as well as the H. E. Amb. Stéphane Dion, Canada's Ambassador to Germany. 
This incredible film touches on a number of contemporary themes such as child soldiers, PTSD and the importance of compassion.  This film also shows that Ann Shin, who also directed the critically acclaimed, "Defector, Escape from North Korea", continues to present her audience with tasteful and timely films.
Attendance to this event is free of change but requires advance registration through the links on the Embassy of Canada in Germany's facebook page.  This event is not only an opportunity to watch a film from one of Canada's premiere film makers but is also a chance to engage in conversation with interesting people about important cultural issues.  Cultural Diplomacy can take many forms but always involves a form of exchange in order to boost mutual understanding.  "My Enemy, My Brother" shows that film can be a particularly effective form of cultural exchange by bringing people together to think about issues that directly or indirectly affect us all.
To learn more about the film and to register for the event, please follow the links below.
References and Links
News from Berlin