4th Chinese Cultural Festival in Berlin
A Chinese cultural experience in Berlin through art, fashion and Kung Fu
August 29th, 2016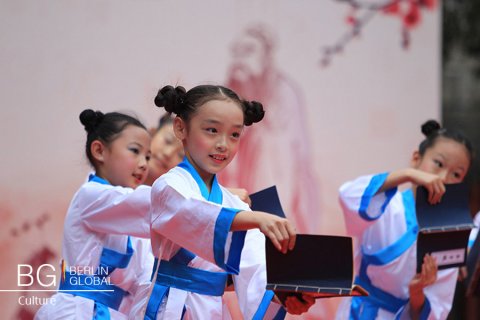 Cultural relations between China and Germany have a long history. They play an essential role in the promotion of strategic partnership, trust and cooperation between both countries. Thanks to the variety of cultural events and activities, such as art fairs, exhibitions, seminars and concerts, organised by both state and cultural institutions, cultural exchange and understanding between China and Germany is developing positively.
From 18 August to the 11 September 2016, the Society for German-Chinese cultural exchange "Bambus pforte" (Bamboo Gate) is organizing for the fourth time a Chinese Culture Festival in Berlin. The Society for German-Chinese cultural exchange's main goal is to provide a cultural exchange and a dialogue between China and Germany. The Chinese Culture Festival in Berlin is an annual platform for showcasing Chinese culture to the German public.
This year's festival in Berlin is held under the slogan "New traditions". It aims to bring new trends and facets of the traditional Chinese art and culture to both visitors and residents of the German capital.  The festival was opened on Thursday, 18 August 2016 at 9pm at the Palais am Festungsgraben ("Palace on the Moat"). The festival was opened with the exhibition "PanoramART - Chinese Art in Transition".
Many artists from China came especially for the 4th edition of the festival. Each one of them will present a small piece of Chinese culture to the German audience. During the festival, visitors can see 40 exhibits of twelve young artists from the Hubei Institute of Fine Arts in China. These exhibits present traditional and modern artistic styles of Chinese culture and also give an overview on the current artistic landscape of China. 
Visitors to the 4th Chinese cultural festival in Berlin will have the opportunity to see a wide range of performances such as screenings of award-winning documentaries, a crafts exhibition with a Kung Fu show and paintings of the famous Chinese artist Qiu Zongkang.
This year a special guest Yang Mingming, designer and founder of the fashion label NA Qipao will be attending the festival. She will provide an insight into the Chinese fashion world. The highlight of the festival will be a fashion show at the Hotel Adlon Kempinski. During the show Yang Mingming will present together with the prestigious European label Karl Lagerfeld and Swarovski her clothes and will also auction them for charitable causes.
The Chinese Cultural Festival in Berlin is a cross-cultural platform for the development of future cultural exchange and relations between Germany and China. It aims to strengthen cultural understanding between the two countries.
References:
News from Berlin